Wastewater Collection
The existing wastewater collection system consists of nearly 100 miles of mains and 27 lift stations. The wastewater collection system is not interconnected with any storm drainage system.
Wastewater Treatment
The District operates the Vista Wastewater Treatment Plant which services the portions of District 1 and the Town of Pagosa Springs. The Vista treatment plant is in compliance with all discharge standards required by the Colorado Department of Health and Environment.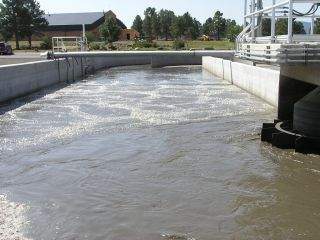 Vista Wastewater Treatment Plant
Water Conservation
At PAWSD, we believe that water conservation education is the key to community awareness and appreciation of this vital resource. Together with the Southwestern Water Conservation District's Water Information Program, PAWSD provides water conservation programs, workshops, fairs and tips to the public. Click here for more information on the District's conservation program.