Customer Care > Connection Permit Request
Water Meter Sizing Worksheets >>
Download the 2018 Single Family Residential Meter Sizing Worksheet
Download the 2018 Multi-Family Meter Sizing Worksheet
Download the 2018 Commercial Meter Sizing Worksheet
Connection Fee Information >>
Revised 01-18-18
The Water Meter Sizing Worksheet calculates the Fixture Count, which may determine the Connection Fee assessments and the monthly billing service statement.
Single Family residents are considered as 1 Equivalent Unit (EU).
Connection Fees:
3/4" Standard Water Meter: $1,700 1" Water Meter: $1,935
*Sewer - Gravity: $400
Capital Investment Fee per EU:
Water: $2,658
*Sewer: $1,017
Raw Water Acquisition Fee per EU: $1,959
NOTE: If a change in fixture count or a change-in-use is anticipated, a "beginning" and a "full build-out" fixture count are required. The owner is responsible to provide any changes to the District and for any/all additional costs/fees
PAWSD sewer service is not available in all areas.
Responsibility of the Property Owner OR CANCELLATION MAY OCCUR >>
The following is the responsibility of the property owner and must be met by the connection time at the property site or cancellation may occur resulting in a $100.00 cancellation-no show fee.
Permits & Regulatory Requirements: All Permits or regulatory requirements necessary for the installation, repair, and/or maintenance of a service line, is the sole responsibility of the property owner.
Excavator & Operator: Minimum size of backhoe/excavator, equivalent to 580 with rubber tire & 24" bucket. District recommends that the operator have a "spotter" on site during excavation.
Property pins: Located to determine utility easement.
Utilities: All other utilities must be marked. District will locate their main lines on day of connection.
Bedding Material: District requires minimum bedding of 4" below and 12" above pipe with debris free fill. See City/County Specs for their individual requirements.
Barricades & Signs: See City/County Specs for their requirements.
Cancellation Policy: District contacted minimum of 30 minutes prior to connection time.
Additional Information >>
1. Meter Pit Backfill: Backfill 10 ft. radius around & to top of cast iron lid of new, or existing meter pit, within 48 hours (same day if temperature is freezing). Failure will result in $500 assessment to Property Owner. Additionally, any additional damages/repairs caused by improper backfilling will be assessed to property owner.
BACKFILL TO VERY TOP OF THE CAST IRON LID LOCATED ON TOP OF THE DOME TO PREVENT METER FROM FREEZING DURING WINTER MONTHS!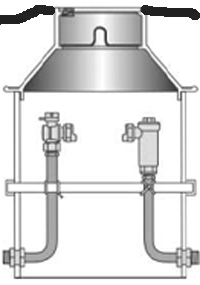 2. Water Fittings: Property owner is responsible to provide fitting between meter pit and their pipe (male iron pipe thread coming out of pit, property owner needs female iron pipe thread).
3. Sewer Installation: District completes tap at main line. Property owner is responsible for all excavation, materials (typically, pipe is 4" PVC Schedule 35), & installation of service line beyond the main line tapping saddle. Suggested minimum fall for 4" pipe is 6" per 100 ft.
4. Sewer Maintenance: Maintenance of any sewer service line, whether commercial or residential, is the sole responsibility of the property owner of the property serviced by the sewer service line. On properties where more than one property shares a sewer service, the affected property owners share the responsibility to maintain and repair the sewer service line, in its entirety.
5. High Pressure Wastewater Line: Properties provided with this service may require an Environmental One lift station (or equivalent), lateral kit and valve box. Property Owner is responsible for all excavation, materials, installation, and maintenance of service line beyond the main line tapping saddle
6. Connection Refund: Any portion of the physical connection NOT completed by the conclusion (typically Oct 31st) of this year's District Connection Season shall be refunded. When service is requested, a current Connection Request Permit must be completed and all applicable fees paid.
7. Excavation: Trench safety is at District discretion. Under District's supervision, property owner is responsible for all excavation (blasting, trenching, backfill, compaction, & ground water pumping) beginning at & including exposing main line. District does not guarantee location of main or service line(s).
8. Pre-excavation: District is not responsible for misalignment, should excavation occur prior to connection.
9. Trench Sharing: Permitted 5 ft. beyond property line, with a suggested 2 ft. horizontal separation. Colorado Law requires a minimum 10 ft. horizontal separation between water & wastewater lines.
10. Frost Line: To prevent freezing of water and/or hi-pressure wastewater lines, lines should be located minimum depth of 5 ft.
11. Utility Easement: When landscaping in & around utility easements, use common sense. In event of leak or other repair, area is at mercy of repair equipment.
12. Water Pressure: Is property owner's responsibility and expense to reduce / increase water pressure past water meter pit.
13. Unauthorized Connection: No excavation of or connection to District water and/or wastewater line(s) shall be made without permission and supervision by District personnel. To do otherwise, could constitute property owner liability for all repairs and applicable fines.
14. Capital Investment Fee / Raw Water Aquisition Fee: Property owner's responsibility to notify the District of change in water fixture count or change-in-use.
15. Billing: After connection is completed, availability fee ceases and monthly service assessment begins.
Cross-Connection Control Program >>
In order to ensure safe drinking water, Federal and State legislation have sanctioned water authorities, such as PAWSD, with the responsibility & authority to implement & maintain a Cross-Connection Control Program. Additionally, water authorities will specify, inspect, & receive documentation on all backflow prevention devices. PAWSD has determined a REDUCED PRESSURE ZONE Backflow Prevention Device (BPD) will be required for non-residential service connections, existing and future.
General Information:
All costs for design, installation, maintenance, repair, & testing of the BPD are to be borne by the property owner.
In NO case will it be permissible to have connections between the meter & the BPD, without District pre-notification, approval, and inspection.
Testing will be done to insure proper operation of the BPD.

It will be the responsibility of the property owner to have certified tests made.
Each test will be performed by a Certified Technician approved by the Colorado Department of Public Health & Environment & PAWSD.
It will be tested at the time of installation & on an annual basis thereafter.
Each test will be conducted in accordance with ASSE and/or USC-CCC & HR Performance Standards & Field Test Procedures, as directed by the Colorado Department of Public Health & Environment.

Records of all tests, repairs or replacement shall be kept by both property owner & PAWSD.
As necessary, whenever the BPD is found to be defective, it will be the property owner's responsibility to repair or replace the device.
Discontinuance of water service may occur when:

Property owner fails to cooperate in the installation, maintenance, testing or inspection of the BPD.
An unprotected Cross-Connection exists.
Any BPD is found to be defective, removed or bypassed.
Installation Information:
Before installing the BPD, pipelines should be thoroughly flushed to remove foreign material, as this may cause the BPD to malfunction.
The BPD will be installed:

By a Colorado Licensed Plumber.
Immediately upon service line entry to the building, upstream of any other connection to the service line.
In an accessible location to facilitate maintenance, testing and repair. Where building security is required, it should be located in an area not subject to security.
Shall be inspected in accordance with the State and current local Plumbing Codes
At least twelve (12) inches above the finish grade to allow clearance for the repair work.
A concrete slab at finish grade is recommended.
Proper drainage should be provided for the relief valve. Drainage may be piped away from the location if drainpipe is readily visible from above grade & the relief valve is separated from the drain line by a minimum of double the diameter of the supply line.
Be installed in the horizontal position. Vertical installation shall only be acceptable when a Watts 909 RPZ BPD is installed.

The BPD valves are not to be used as the inlet or outlet valve of the water meter. Test cocks shall not be used as supply connections.
The single check valve is NOT considered a BPD.
The District will require inspection of all containment BPD installations.
The District retains the right to test or otherwise check the installation and operation of any containment assembly at any time to assure proper operation.
Other Information:
Representatives of the District will carry proper credentials as means of identification.
By pre-arranged appointment, District personnel can inspect the building & premises for cross-connections relative to possible hazards.